Welcome to Ishan Advisors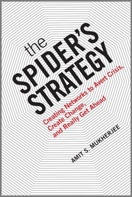 Based on exclusive interviews with executives at Nokia and HP, and a wealth of other little known, but insightful research, The Spider's Strategy discusses - what, why, how, when - the capabilities companies need to thrive in a networked world. Individually, these capabilities help improve performance; collectively, they reinforce each other and engender almost insurmountable advantage.

Buy The Spider's Strategy at amazon.com, Barnes & Noble or your local bookseller.